The air is getting crisper and the evenings darker quicker. So it has emerged, your between seasons jacket, a harbinger of the change in weather.
It landed first on your closet shelf and then, swiftly, on that hook you hang your everyday purse on. Maybe you have already been wearing it for a week, a tad early really, but warning enough for people to note that winter is almost here and the year on its way out. Or perhaps you have been braving the cold in it because you can no longer wait for spring. The jacket then is your clarion call to warmer days.
Much like the short lived spell of calm sunshine and languid evenings between seasons, this romance with the transitional jacket is brief and wondrous. Soon it will be ousted by a sturdy winter jacket, a much stronger adversary to the gradually sharpening claws of the wind. Or – depending on which half of the globe you are in- it could be umbrellas, scarves, sunscreen, sweat and the merciless beating of the sun that could be giving it the boot. Perhaps this is why the between seasons jacket's hold over you is unmistakable. It offers you a cozy, comforting respite before a plunge into the deep.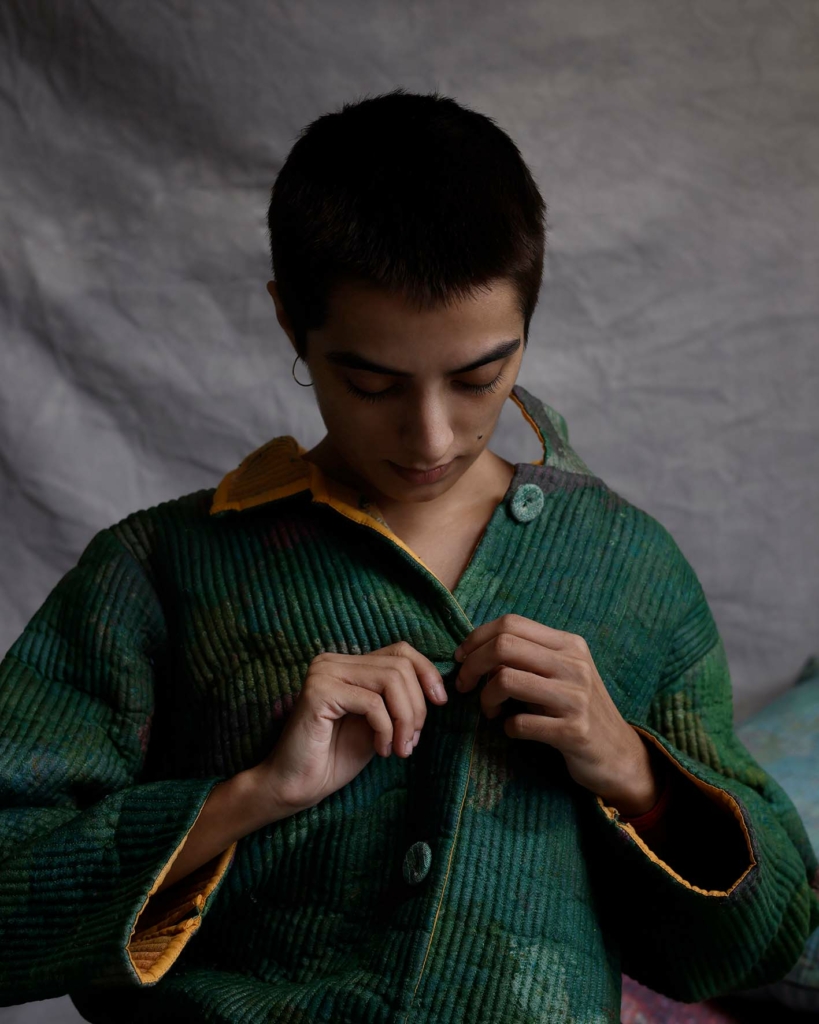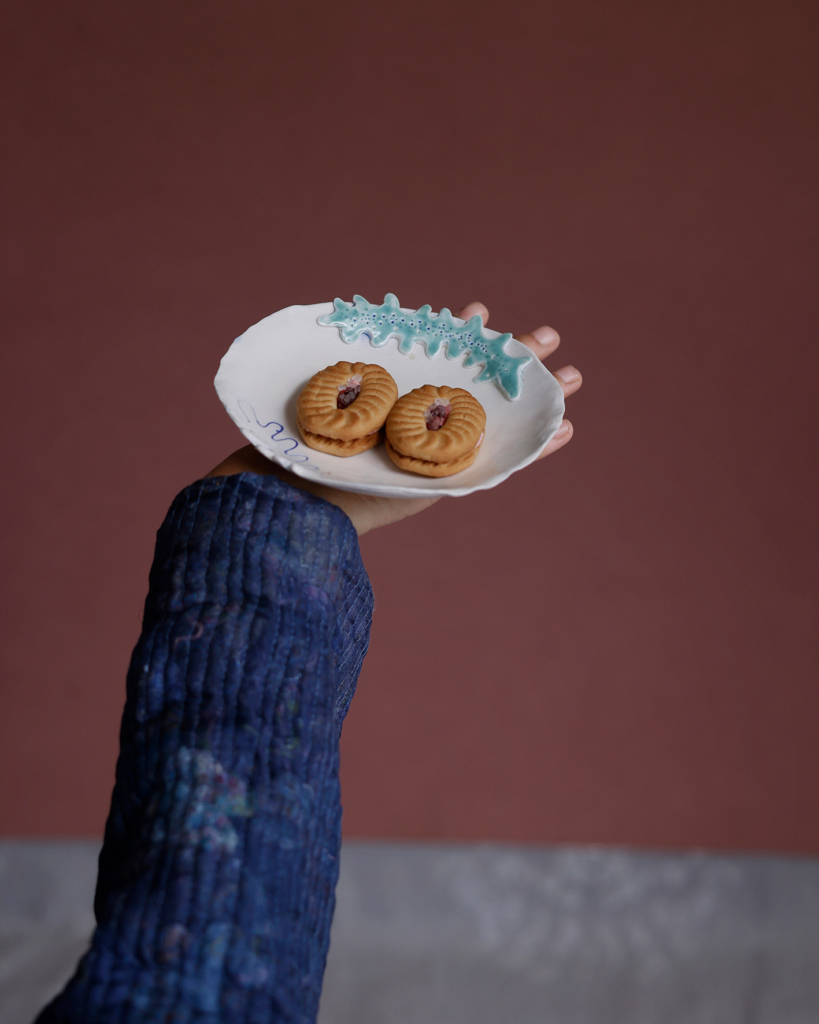 So you see, your transitory jacket deserves appreciation. A little attention, at least, to its many overlooked details. Take the sleeves, for instance. They are probably a little frayed at the edges, maybe they are just a smidge too long, and yet they are the perfect length to retract your hands into when cold or to roll up when you are about to get your hands dirty. Then there is the fit. You can easily leave the front unbuttoned (even after sun down, even outdoors) the weather will permit. But if it does get chilly, button it right up over your leniently light layer of clothing underneath – perhaps just a shirt, blouse or even a dress. Dig your hands into those deep, soft, quilted pockets, they will keep you warm. And that colour. You can't tell in the dark but if you look closely, it changes ever so slightly under the warm honey of the equinox sun.
As the season – and the times – change, these residues of the past are enlivened every time you slip into your transitional jacket, despite it being still too warm, or cold.
So you see, it is not for nothing that you reach for your between seasons jacket as often as you do, even if it is during that blink-and-you-miss-it interlude every year. There have been times you have tried to drag that stretch, willingly hunching up against the sudden gust of chill for a few extra days, or melting into pools of sweat, all to stay wrapped in it just a little longer.
In the many falls and springs you have seen several jackets have come and gone. The long pin striped one that you took off because it got too hot and then left neatly folded on the arm rest of a park bench. The buttery suede you had worn to a party and probably left hanging at the back of a bar chair after a few too many drinks. The plaid one you bundled up to take a nap on your way bus ride home from a much cooler city and then sleepily abandoned. The jacket hanging on your coat rack wears the memories of these others loved and lost. As the season – and the times – change, these residues of the past are enlivened every time you slip into your transitional jacket, despite it being still too warm, or cold.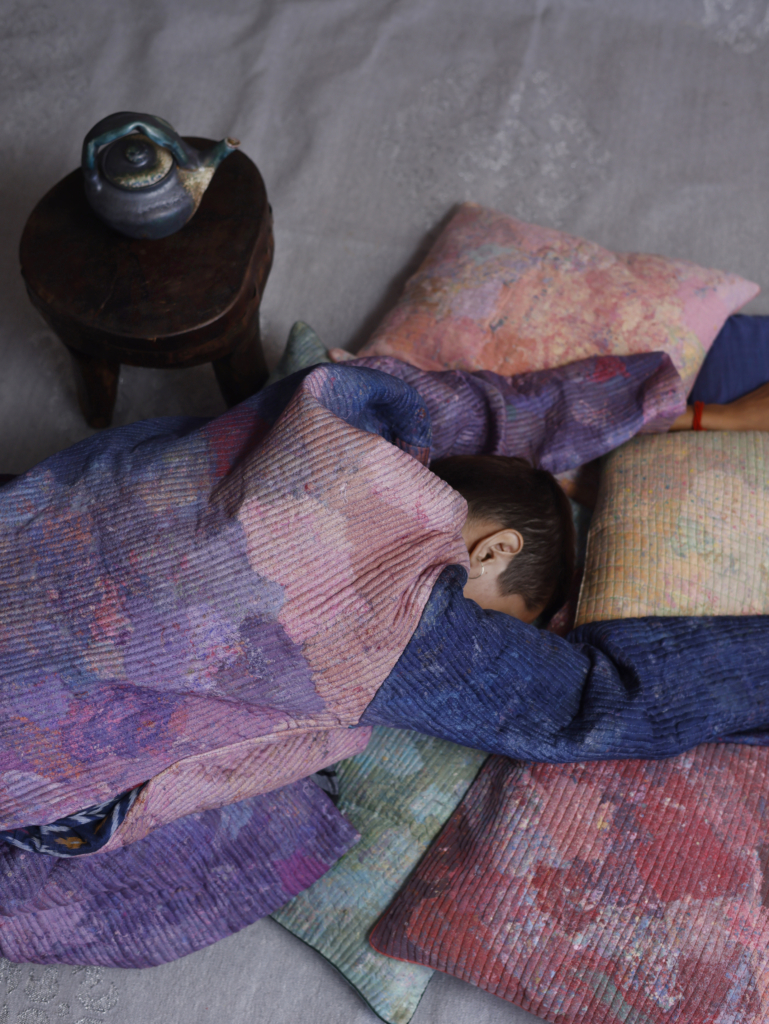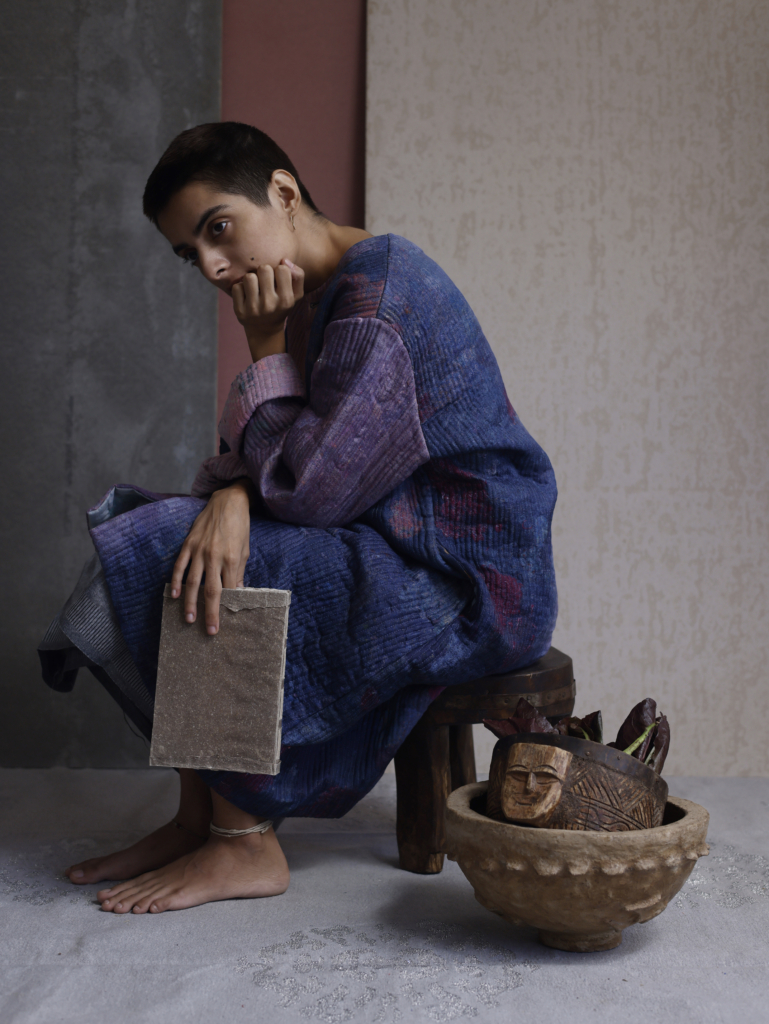 The Day Dreaming Jacket was sewn together with the cotton thread remains from Bandhani and Shibori techniques. Accumulated over time the threads were sorted and quilted together to create a transitional jacket full of colour and the traces of past textiles.